H Classic Aura Compact Mat
heal today health today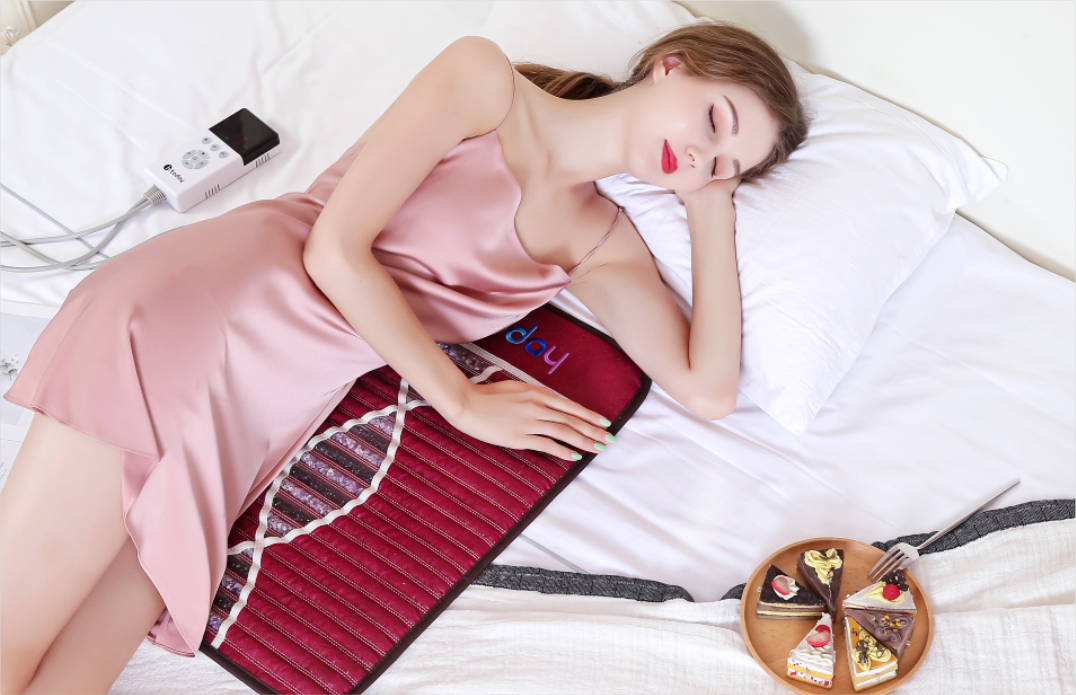 H Classic Aura Compact Mat combined with Far Infrared Therapy, Negative Ions Therapy, Chakra Energy Therapy, Amethyst Thermotherapy, Photon Therapy helps people re-regulate body, temporary relief of minor muscle and joint pain and stiffness, balance body energy and bring health to people.
H Classic Aura Compact Mat can bring balance to your life. Seven kinds of energy crystals for seven chakras. The seven chakras connect different glands and organs in the body and regulate the energy flow throughout the body. And the seven chakras produce blockages, deficiencies or excesses, and negative emotions such as stress, depression, sadness, and anger can cause the chakras to close, leading to long-term accumulation of physical illness and mental disorders. Our H Classic Aura Compact Mat each type of crystals has its unique effect to help promote daily balance and recovery. This is famous Chakra Energy Therapy. And these crystals emit high levels of far infrared rays and negative ions. Far infrared light is close to the vibration frequency of cell molecules in the human body, after "life light waves" penetrate into the body, it will cause the resonance of the atoms and molecules of human cells, through resonance absorption, friction between the molecules to form a thermal reaction, promote the subcutaneous deep temperature rise, and make microvascular dilation, accelerate blood circulation, is conducive to the removal of blood vessel hoards and harmful substances in the body. Negative ions have important biological effects, it can directly act on the central nervous system and blood circulation, effectively improve brain function, enhance the body's immunity, promote metabolism, regulate nerve function, eliminate fatigue. For the human body's 7 major systems, more than 30 kinds of diseases have a good therapeutic effect. Besides these crystals, H.TODAY H Classic Aura Compact Mat also uses photon therapy to help promote metabolism, speed up blood circulation. In summary, these therapies will help improve your health and temporarily strengthen your circulatory system.
You can put this Crystal Far Infrared Healing Mat on the shoulder, stomach, lumbar or legs. It can also relieve muscle soreness, stiffness, cramps, frozen shoulder, arthritis, etc. You can use it comfortably on the floor, bed, sofa, recliner or even against the wall to relax.
Strong Healing Power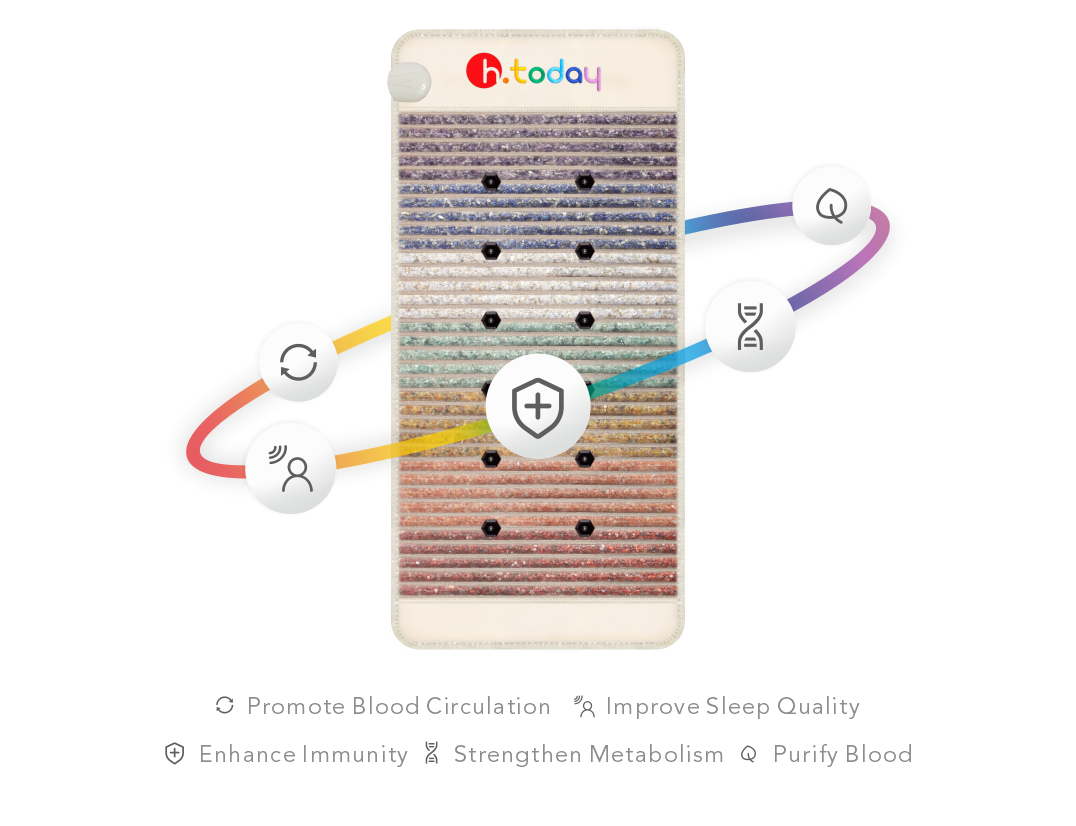 Innovative Technologies Structure Layer
More innovation more differentiation and more technology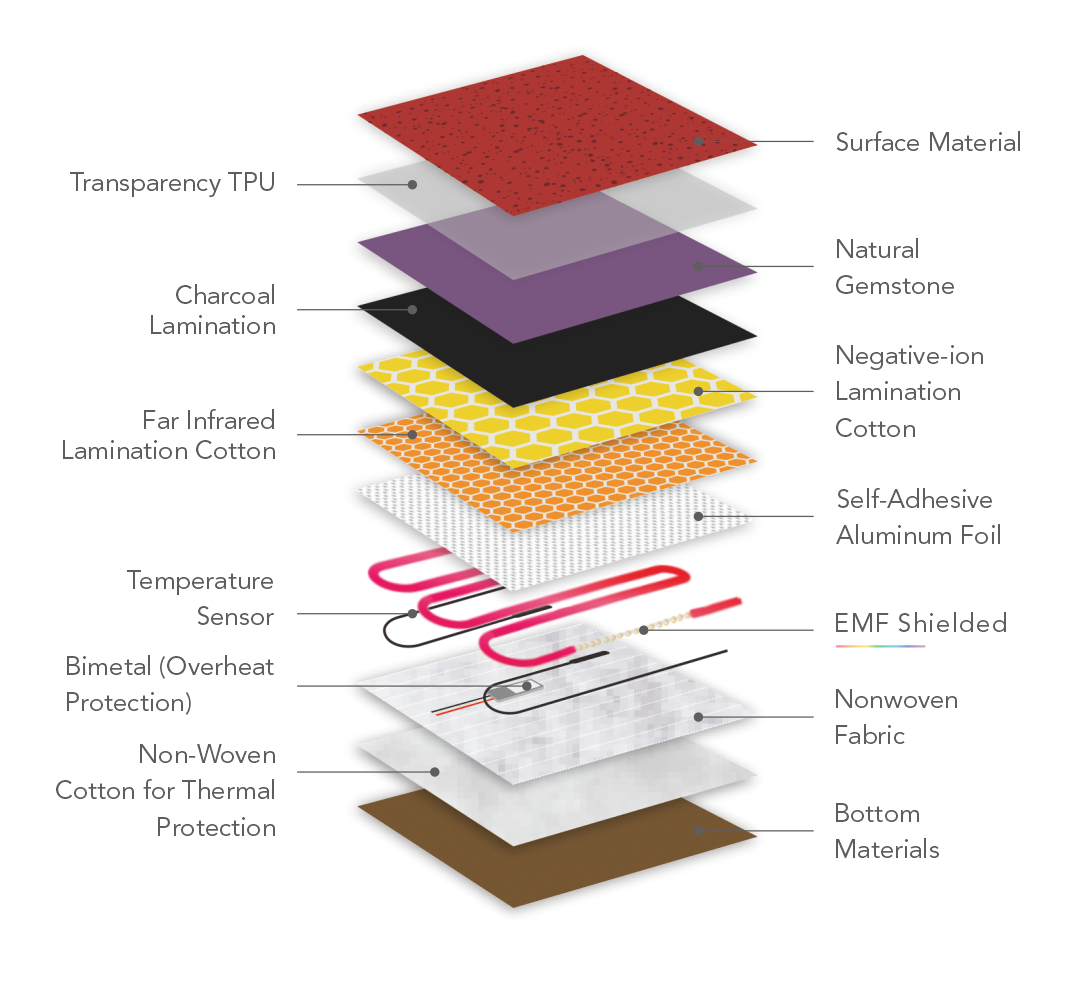 Technical Specification
MODEL
H Classic Aura Compact Mat
H Classic Compact Mat
DIMENSION
50*107cm
50*100cm
POWER SUPPLY
110 ~ 120V, 60Hz / 220 ~ 240V, 50Hz
HEATING POWER
125W
125W
HEATING SYSTEM
EMF Shielded
EMF Shielded
HEATING AREA
50*86cm
50*79cm
FUNCTIONS
Heating, Photon
Heating
APPEARANCE